---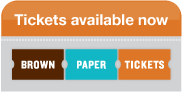 Tickets Available!
There are no physical tickets. Once you purchase your ticket your name will be added automatically to the Will Call list. The Will Call list will be at the check in desk at the event (
South Bay Grange
) and each participant will get a wristband upon checking in.
Tickets (wristbands) are required for entrance into the Grange.
Kids 12 and under are Free!
All Workshops are Free!Ticket Prices (per person):
$5 Thursday Night Kick-off Dance
$20 Friday Night Concert and Events
$20 Saturday Night Square Dance
Simplifying ticket purchasing
(hint: After selecting ticket for each night, click back arrow to get select the additional night's tickets)STEPS:
1. Click on the Brown Paper Tickets link above
2. Once at the Brown Paper Tickets site, select the date (top left) and # of tickets (top right)
3. Click on Add to Cart (check for correct dates and # of tickets)
4. Then click the back arrow (in your browser), repeat process to select additional dates and tickets
5. Once all tickets are selected proceed to payment through Brown Paper Tickets
6. Will need to open new browser window or back arrow to get back to Oly Old Time website